Boo! How to Avoid Scary Pumpkin Carving Accidents
October 20, 2023
Halloween is a time for spooks and scares but not a great time for scary injuries. Protect yourself from pumpkin carving injuries this Halloween.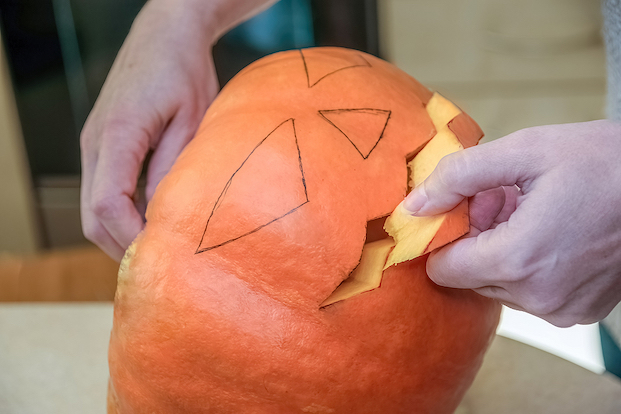 According to U.S. News and World Report, 44% of Halloween-related injuries in 2018 were related to pumpkin carving activities. This Halloween, save yourself a trip to the doctor or emergency room. Carve your pumpkin safely.
Choose the Right Environment
Select an appropriate environment for your pumpkin carving activities. The room should be clean and well-lit so you can see what you're doing, and the surface should be level and easy to access. Carve your pumpkin in a dry area so the carving knives are less likely to slip. Have a rag nearby to dry off your pumpkin if it becomes damp or slippery.
Use a Pumpkin Carving Kit
While a butcher knife may seem like the best tool for carving a pumpkin, these large knives are unwieldy and can be very dangerous. Use a pumpkin carving kit instead. A typical kit will contain "knives" of several sizes, including larger ones for cutting big shapes and smaller ones for detail work.
These knives have no sharp edge on their blade, so they're far less dangerous than kitchen knives. Pumpkin carving knives may look flimsy, yet they easily cut through the pumpkin.
Don't Allow Children to Carve On Their Own
Even with a pumpkin carving kit, children should only carve a pumpkin with help from an adult. Show smaller children how to cut a pumpkin safely, then allow them to help you scoop out the insides. Older teens may be allowed to use the kit but should still be supervised throughout the process.
Cut the Top Off Last
Avoid putting your hand inside the pumpkin while cutting out shapes on the side: cut the shapes out first and the top off last. Never stick your hand inside a pumpkin while you carve the shapes around the outside.
Don't Use Real Candles
Some people place real votive candles inside their pumpkins when carving. Lighting a candle inside the pumpkin could lead to burns, especially if you don't have a long-handled lighter or match stick. Battery-operated candles solve this problem. Remember that battery-operated candles may not be as bright as real ones.
If you plan to use a real candle, try this trick: instead of cutting off the top, cut off the bottom of the pumpkin, which allows you to light the candle first, then place the pumpkin over the candle.
Know What to Do In the Event of an Injury
Pumpkin carving injuries happen every year. Even if you're using a pumpkin carving kit, it's essential to know what to do in the event of an injury. If you or a family member cuts themselves during pumpkin carving activities, apply pressure to the wound using a clean, dry cloth. If the wound is still bleeding 15 minutes later, go to an urgent care clinic or emergency room.
Protect Your Property. Maintain an Up-To-Date Homeowner's Policy.
Property damage can happen at any time of year, but your home may be at particular risk around Halloween, a time when "tricks" can accompany treats. Be ready for anything. Contact your insurance agent to evaluate your coverage.